Colour Pairings: Yellow and Blue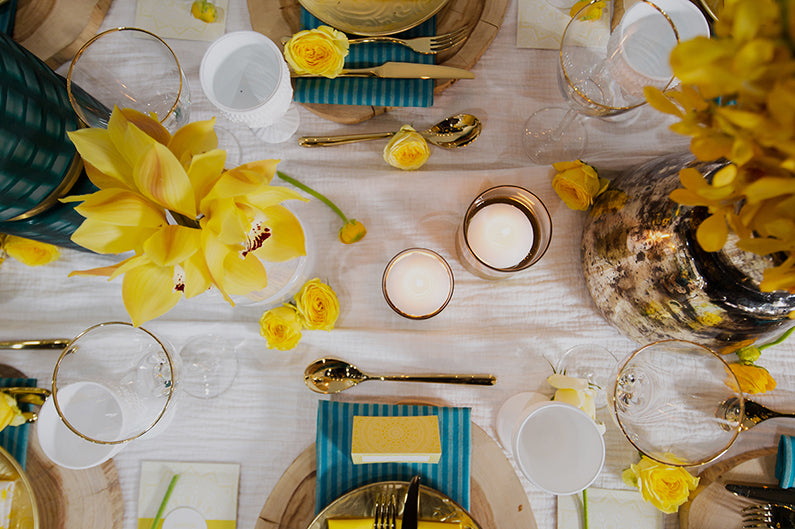 We've all seen white and gold, pink and purple, red and green together but seldom do we see yellow and blue as a colour pairing in weddings and it's such a fabulous combination. Yellow, in all shades: lemon, honey or mustard can add real zing to your wedding flowers and overall decor.
There's such a variety of yellow and blue buds for summer and some of my favourites I've listed below. Think chic midsummer affair…
YELLOW TOP 10 PICKS:
Calla Lily
Fritillaria Lutea – Amazing!
Tulips
Phalaenopsis Orchid (Love the Antalya!)
Spray Roses (Love the Rose Spray Bandolero, Antike, Lyndee, Estevana and Rustigold for a deeper sunset colour).
Garden Roses (Love the David Austin Rose Beatrice and Effie and Rose Toulouse Lautrec).
Ranunculus
Achillea
Craspedia (Dried)
Hyacinth
BLUE TOP 10 PICKS:
Gentiana (Available late summer)
Anemone
Aquilegia
Delphinium
Ageratum
Clematis (Love the Blue Pirouette)
Eryngium (Thistle)
Hydrangea (Love the Bela and Lolly Pop Blue)
Nigella
Agapantus
What's important is, these 2 colours don't compete and when teamed with gold foil/metallic brass tones in your stationery, cutlery and other table decor it will really pull these colours together as Event Stylists - Nini Richi have shown here:
Hopefully these inspire your own wedding theme or other floral arrangements!