Embrace Nature's Beauty: 10 Enchanting Wedding Hairstyles with Fresh Flowers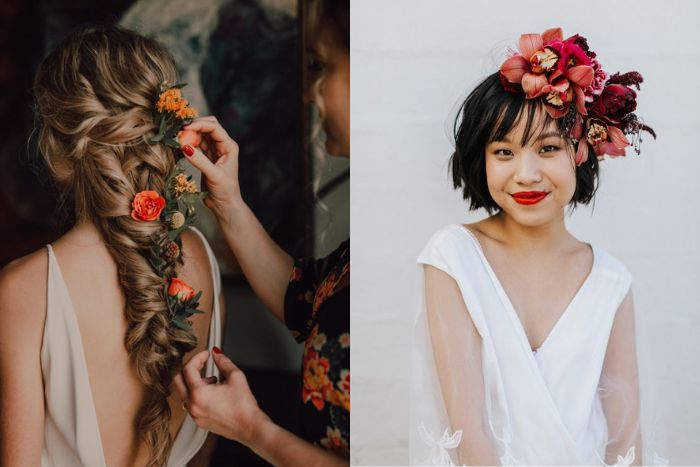 Embrace Nature's Beauty: 10 Enchanting Wedding Hairstyles with Fresh Flowers
Introduction:
When it comes to planning the perfect wedding, every detail counts. One trend that remains popular in the bridal world is incorporating fresh flowers into your wedding hair. These nature-inspired hairstyles will add add a touch of elegance and romance, creating a beautiful look that will leave everyone in awe. In this blog post, we'll explore ten enchanting wedding hairstyles that feature the timeless allure of fresh flowers, ensuring that your big day is nothing short of magical.
The Effortless Bohemian Braid: Perfect for a bohemian-inspired wedding, this hairstyle combines the charm of a loose braid with delicate wildflowers weaved into it. A scattering of baby's breath and dainty blooms adds a touch of whimsy, creating a relaxed and effortlessly romantic vibe.
The Floral Crown Goddess: Embrace your inner goddess with a floral crown that crowns your head like a blooming halo. This ethereal look works beautifully with loose curls or waves, and you can choose flowers that match your bouquet for a harmonious bridal ensemble.
The Half-Up Blooming Beauty: For brides who want to strike a balance between a classic updo and the allure of fresh flowers, the half-up hairstyle is a splendid choice. Gently tuck sprigs of lavender, roses, or peonies into the twist for an organic and picturesque finish.
The Delicate Flower Hairpin: If you prefer a minimalist approach, a single fresh flower hairpin can speak volumes. Select a focal bloom, like a large rose or a vibrant orchid, and secure it into an elegant updo or a sleek, low bun for an understated yet captivating look.
The Romantic Garden Goddess: Channel your inner garden nymph with a loose, wavy hairstyle adorned with a myriad of flowers and greenery. Cascading down your locks, this style brings the enchantment of a secret garden to your wedding, leaving everyone captivated by your beauty.
The Timeless Flower Crown Braid: A twist on the classic braid, this intricate hairstyle features a crown braid adorned with delicate buds and blossoms. This look exudes sophistication while embracing the charm of nature's wonders.
The Fresh Flower Chignon: For a polished look, consider a chic chignon embellished with sprigs of eucalyptus or spray roses. This refined style pairs wonderfully with a traditional wedding gown and adds a touch of botanical elegance.
The Playful Flower Ponytail: Opt for a playful and modern twist by incorporating fresh flowers into a low ponytail. This contemporary style works well with tropical blooms or wildflowers, making it ideal for destination weddings or laid-back ceremonies.
The Floral Cascading Braid: Take the cascading braid to new heights by intertwining fresh flowers throughout the length of the braid. This show-stopping hairstyle is a true work of art and ensures all eyes are on you as you walk down the aisle.
The Statement Floral Veil: Combine tradition with nature's beauty by attaching delicate flowers to the edge of your veil. As you walk down the aisle, the blooms will create a mesmerising effect, making you feel like a fairy-tale bride.
Conclusion:
Fresh flowers have an innate ability to add a touch of magic to any wedding hairstyle. Whether you opt for a bohemian braid, a romantic garden-inspired look, or a cool af flower crown, these nature-infused styles will undoubtedly enhance your bridal beauty.